Testimonials
Good Evening Lauren,
We purchased a Chocolate lab from you in March. SKADI is her name. Update for you as she is six months old. I don't know what you do in your training of pups there, and most of what were seeing in our dog, cannot be "trained". It's more natural instinct. Skadi spent the summer in Alaska commercial fishing with myself and my family. She is a "family" dog, but she is actually belongs to my daughter Elsa. And it's evident she is Elsa's dog thru and thru. Since she's been home from Alaska she attends doggie classes on obedience and basic skills. But thru and thru like I said she has skills.
Example: We had a bobcat in our chicken coop three days ago. Skadi had the cat treed while I went for the gun. The cat got away but chickens got out in the chaos . 5 total. Skadi caught four of them using her paws and the last one I actually gave up on and one hour later she brought the chicken to me "soft mouthed". I did not teach her that not could I have!
This dog is amazing, flat out! She is defiantly a core part of this family, she sleeps with the kids and has the best temperament. Thank you Lauren. We will keep you posted as we will be using her for hunting this fall.
Sincerely,
Elsa and the family
---
Our experience choosing a puppy from Silver Bow Labradors has been wonderful from start to finish. I recall my very first phone conversation with Lauren and how it felt like talking to an old friend. I just knew I didn't need to look any farther. She was always professional, friendly, responsive and enthusiastic. I know my family really appreciated all the pictures of the puppies, it helped keep us feeling connected right from the beginning. And on the day we got to choose our puppy, Lauren was there to help us through the entire process. She really listened to what we wanted, and helped making the selection process so much easier so we could find the right little guy. Our boy, a chocolate lab named Moose fits in so well with our family of 4. My boys just love his energy, and his cuddly nature. We can't thank Lauren enough for this experience. We would recommend Lauren to anyone looking for a lab to add to their family. THANK YOU Lauren!
Jenny Chinn
---
If it comes to hunting dogs, service dogs or just a companion, Lauren offers the best quality dogs from every category. We've had our pup for about 3 months now and his attentiveness, drive and intelligence continues to amaze me every single day. His ability to retain commands even at 10 weeks old was astonishing, even more so that i work graveyard shifts and I'm unable to spend as much time as I would like during the day with him, but you would honestly think that I spend countless hours training with him.
We went through Lauren looking for a good hunting dog and house dog, which can be a struggle to get the best of both worlds, but so far he's shown an unbelievable amount of drive with retrieving but also knows when it's time relax inside.
He's the center of attention whenever we take him pretty much anywhere, and we make sure to tell all the gawkers about silver bow labradors!
Ben DeGroote
---
Absolutely amazing Experience.
The silver bow staff was extremely helpful knowledgeable and made it very easy for me to pick my puppy.
We are completely amazed by how smart are puppy is at only eight weeks and just picked him up yesterday.
He already plays fetch and brings back the ball he sits and stays he understands the command stay out of the kitchen he's been in our little pool that we have for him and his demeanor is amazing.
We have already recommended Silver Bow to one of our friends looking for a black lab
We named our little chocolate lab dude and he's an awesome addition to our family.
Thank you Silver Bow Labradors.
Chris Meier
---

After 40 years with a black lab in the house we figured we were done with dogs when the last one went down two years ago. But that changed when we decided a new puppy was the perfect remedy for Covid boredom.
As experienced lab owners we knew we wanted a puppy with a proven pedigree. Silver Bow seemed to fit our criteria so we contacted Lauren. And we are happy we did. Lauren was able to offer us a pick of a black female from an upcoming litter. We couldn't be more pleased with our choice of a Silver Bow pup.
Rosie is the most gregarious, social puppy we have had. And she is checking all the boxes as she learns what is expected of her in the house and in the field. In the house, she quickly learned to respect boundaries. Even though she is not shy about voicing her displeasure with the command "NO," she complies accordingly.
At 13 weeks she retrieves bumpers to hand and is responding well to "sit, stay, come, heel and down." No doubt that she will be field ready come hunting season 2021.
So if we encounter anyone who, like us, thinks a Labrador puppy might be in their future, we won't hesitate to suggest that they contact Lauren and check out her program at Silver Bow.
Nola and Mike T.
---
After saying goodbye to our 13-year-old Chocolate Lab, Annie, on May 15th we started our research for another one the very next day. Thank God we found Silver Bow Labradors. We reached out to Lauren, right away, and got on the list for a puppy from Buck and Twist. Just a few short months later we got a text from Lauren that Jake was born, on August 5th.
Lauren sent us updates and pictures of the pups until ultimately, we got to pick up Jake on October 4th. The minute we drove up to the gate Lauren made us feel at home and spent a lot of time talking with us and Jake. We couldn't have been happier at the hospitality we received.
Fast forward, and Jake turns 7 months this week! He is the most handsome dog I have ever seen, and he is incredibly smart. We cannot walk Jake a single day without a passerby saying how gorgeous he is. He absolutely loves people and he gets along with every dog he meets.
We couldn't be more thankful to Lauren, and Silver Bow Labradors, for giving us an amazing Chocolate Labrador. We absolutely adore Jake.
Mike & Ashley Blackburn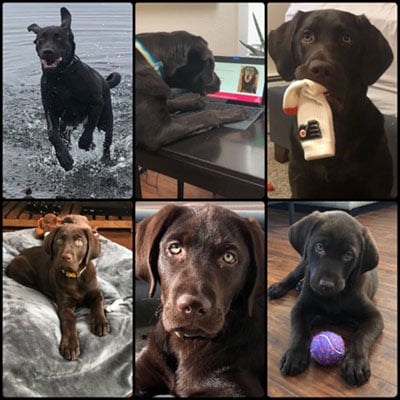 ---
2020 began like a wrecking ball for my family, with my oldest daughter charting through heartbreaking struggle and emotional pain. If that wasn't enough, I had been laid off in January, a global pandemic took hold, and along without being able to see their friends or go to school, our two younger children were enduring the emotional tolls of a devastated mother. Our family simply needed an injection of love, joy and unity.
As we had long desired to surprise our littles when they were old enough to appreciate and partake in a puppy, we began our search, quickly coming across Silverbow Labradors. Many encounters with chocolate labs had left us feeling as if this breed would be a great fit for our family. When I connected with Lauren, all of the pieces fit. She could 'see' me, she felt and empathized with not just the joy of surprising our kids, but the healing my heart so desperately needed. Lauren was the blessing of all blessings, encouraging me, instilling confidence when I questioned myself, and evaluating us holistically, ensuring not just that her dogs were a fit for us, but that we were also a fit for them.
To say Lauren blessed us with the sweetest pair of chocolates would be the understatement of a lifetime. These girls have brought our family such love, devotion, joy and sweetness imaginable. We simply cannot believe they are ours, and it brings tears to our eyes to have been chosen to love them. At the most basic level, Silverbow Labradors are born sweet, have calm and joyful demeanors, are wickedly brilliant, and so incredibly beautiful.
We are profoundly honored and humbled to have brought our little lady loves into our home and family, and I will be forever thankful Lauren chose us.
All my love,
Griffan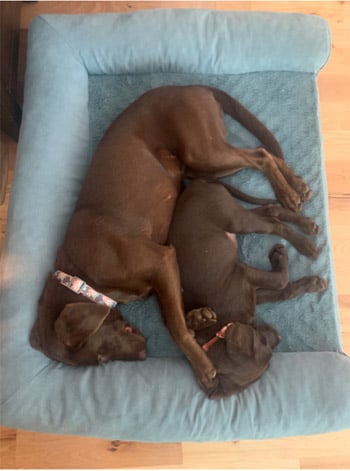 ---

In April of 2020, we started the search to add a chocolate lab puppy to our home. I had made calls to multiple breeders in Washington State with no response. I found Silver Bow Labradors online and decided to reach out. As I dialed the number, I assumed again that I'd leave a message, ultimately to get no response. However, Lauren answered within the first few rings.
From the beginning with Silver Bow Labradors and Lauren, the match felt like it was meant to be! My husband and I were new to looking for a purebred lab puppy and Lauren gladly walked us through it every step of the way. She answered any and all questions, which made us feel at ease. We ended up talking on the phone multiple times before we eventually made our way to her home to find our fur-ever friend. Throughout each of these conversations, Lauren would get to know us and figure out what kind of dog would be best suited for our lifestyle.
In July, we flew down from Alaska to pick up our puppy from the Bella and Buck litter. Although our place in line was further down, we still had the option between two beautiful chocolate boys (I would have brought them both home if my husband would have let me!). We also got to meet both parents, who were very beautiful dogs!
We have now had Kobe for three full months, and all we can say is "wow!" He is literally the best dog we've ever owned. He's extremely smart with a good, playful energy. However, he can quickly turn it off in the home. Everyone that meets him tells us what a good-looking dog he is, and it's true! He is very handsome.
I am so fortunate that Lauren picked up the phone on that very first day. The whole process - from beginning to end - with her was a dream. We would recommend her to anyone and everyone who is looking to add a quality Labrador Retriever to their home!
~ Kalli & Joel

---
Choosing a pup from Silver Bow Labradors has been nothing short of amazing! I started my search back in May and came across Lauren and never looked back. Lauren is an amazing breeder that knows what she is doing from start to finish! Her communication with us throughout the experience was awesome and the pictures of the pups she provided meant so much to my kids. While we drove the 3.5 hours to pick up our pup we were all nervous not knowing what to expect, however once we got there it felt like visiting an old friend. We could not have asked for a better experience and we will be going back! Our little girl, a chocolate lab named Dutch is the best. Her temperament is just perfect for our family of 5 with three kids 11,8,3. She loves playing with the kids and relaxing. I cannot thank Lauren enough for this exceptional experience. We HIGHLY recommend.
~ Jenn B.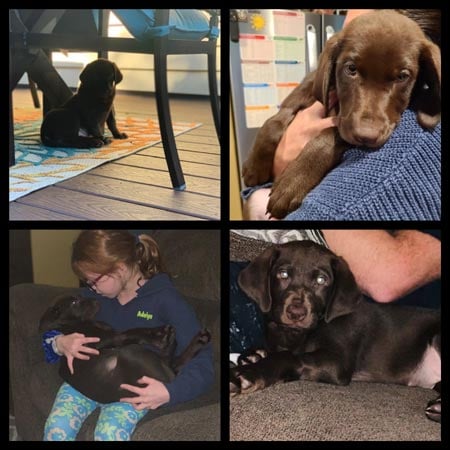 ---
A few months ago we went to Lauren at Silver Bow Labradors to find a chocolate female. We chose a happy little pup that is now eight months old. We get compliments on what a beautiful animal she is on a regular basis. Along with that comes one of the best personalities, she loves everyone and gets along with all dogs we encounter. She is supper intelligent, has a motor that never quits but is so mellow she falls asleep while being given a bath. It has been a pleasure to Whistle train her, very quick to pick up on commands, loves the water and any fetch game she plays. Lauren is great to work with, we have been very happy to recommend her and would not go anywhere else for a pup.
~ Byron Fitch
---
After much research, I recently chose to purchase my next Chocolate Lab from Silverbow Labs. The experience I had working with Lauren was AMAZING from the beginning. It was a lengthy process by my own choice, and in the end, I was blessed with the privilege of "first pick" from a pairing of Buck and Twister. Lauren was patient with my particular nature and laundry list of questions. Her experience as a breeder was evident, and she was willing to answer all my questions. She provided great tips and guidance but, in the end, encouraged me to choose the pup I felt would best suit my family and my needs as a hunter. On the day I arrived to select my pup, I had my 7-year-old son with me, and we were welcomed with open arms. The selection process was no pressure and lots of conversation. My pup is now about 7 months old, and he has exceeded all my hopes and expectations. "Buck Jr" is very energetic but also extremely, naturally intelligent and obedient. He LOVES to retrieve and lives for the water, both of which I also observed to be strong natural desires for him. He is playful but gentle with my children (now 4 and 8) and very loyal to my family and I, yet also very friendly and social. We could not be happier with our experience at Silverbow. I have, and will continue, to recommend Silverbow Labs to anyone who asks. I plan to return to Silverbow Labs in the future to visit AND to select my next pup, when that time comes.
~ B. Chance
---
We had a great experience with Lauren. She has amazing dogs. They are pretty, smart and so kind to people! The whole experience with Lauren is wonderful. She accommodates us and gave tips on how to handle new puppies. We would recommend it to anyone looking for an amazing family dog!
~ Wei Wu
---
I recently chose Silverbow Labs for a Chocolate Lab for my family but ended up leaving with so much more. While waiting for my puppy the breeder Lauren kept me up to date and informed of everything that was going on with the process which included expected litter dates and was notified immediately when the puppies were born! Upon arrival to pick up the puppy we instantly felt like part of the family which definitely made the whole process of actually choosing a pup a lot easier. We were able to take our time and observe the puppies before actually making a decision and never felt rushed for a minute. It has been awhile since a puppy was in our home and we appreciated speaking with Lauren who was able to offer expert advice on feeding, training and raising the pup. That day our family was not only blessed with a beautiful chocolate lab but also a new friend that I feel comfortable calling anytime with additional questions. Silverbow Labs has a customer and friend for years to come and I would highly recommend them to any of my friends and family.
~ Mark B.
---
We were blown away by our experience with Silverbow Labradors. From arriving on the property, Lauren greeted us as if we were family. She guided us in the selection of our pup and gave us ample time to bond with each one. She gave us just the right amount of information about each puppy without influencing our decision. It really is about finding the best fit for each family. We are so grateful to be home with the newest addition to our family, and I know we will stay in touch with Lauren. This is a lifelong relationship.
At our puppy's first vet appointment the doctor's words were, "He's the perfect puppy- perfect demeanor- perfect health- so sweet."
~ Brandt and Allison R
---
First, I must say that we LOVE our Silverbow pup. Every time we take her out people comment on how stunning she is. We have had many people tell us that "she is calm for a lab". That is a Silverbow pup, hard charging in the field and calm inside. Lauren has chosen her lines well, ensuring excellent health, intelligence and a fantastic temperament. We are clients for life! Thank you Silverbow and Lauren for a wonderful addition to our family!
~ Britni L